Capping off a brief two game home stand Thursday night, the Wolverines hosted the Indiana Hoosiers in Big Ten action at Crisler Arena. Both teams started the night in the bottom half of the Big Ten standings, both needing a couple of good wins to their name.
Coming off a 66-57 win against the Fighting Illini, Michigan did not miss a beat against the beat up Hoosiers. Michigan was able to open up an early 15 point lead thanks to potent 3-point shooting, and maintained that lead as they went into the break up 50-35. Shooting 63% from the field and 55% from the land beyond, the Wolverines were able to rout the Hoosiers 90-60. This was only the second game that Tom Crean's Hoosier's had played since hearing that, star forward and predicted NBA lottery pick, OG Anunoby would miss the remainder of the season due to knee surgery. His presence was missed as the rebounding battle was won by the Wolverines, resulting in second chance points for U of M.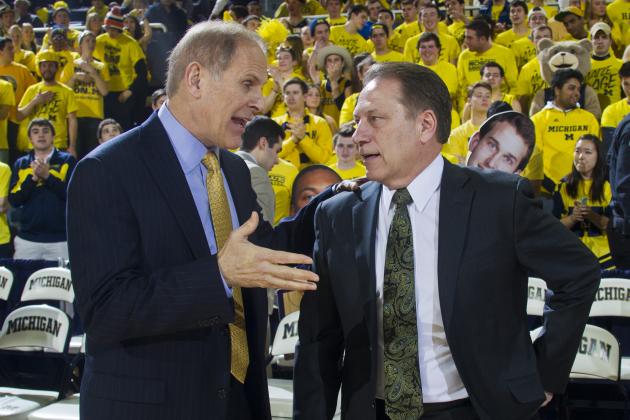 Senior guard, Derrick Walton Jr., from neighbouring city Detroit, had his best all around game of the season. The 6'1" point guard shot 7-8 from the field for 21 points. He also added 5 assists, 3 rebounds and an astonishing 0 turnovers. A staple of John Beilein's Michigan basketball teams is their lack of turnovers per game. Michigan leads the nation at only 9.3 turnovers per game, an overlooked stat in the college game that can make or break close affairs. (UM had just 6 last night)
Looking ahead, Michigan faces a struggling yet dangerous in-state rival in Michigan State. The Spartans have dropped 4 of 5 and lack an identity and leadership this season. Tom Izzo will surely have his team prepared for what has been one of the nation's best rivalries over the past half-decade. Despite an underwhelming season to date, a noisy Breslin Centre and a good performance from freshman star Miles Bridges could lead to a home victory for the green and white.
With NCAA Tournament hopes in tact and in-state bragging rights on the line, game one of two between the Spartans and Wolverines will tip off from East Lansing, Sunday at 1pm on CBS.