In a rather odd year for college hoops, the most consistent conference seems to be one up north. The Big Ten is the host to some of the nation's scariest basketball teams and as many as 8 teams from this conference are poised to make a run into April. Some of the conference's middle tier teams need to make some thing happen down the stretch and in the conference tourney in Indianapolis.
LOCKS: Maryland, Michigan State, Iowa, Indiana
These five teams are surely in to this years version of March Madness, despite all of them losing questionable games. Maryland lost to one of the league's worst programs in Minnesota, and Michigan State had a stretch of three straight losses including one to Nebraska AT HOME. Nobody said it was easy to win on the road in this conference, so some of these losses are understandable. Indiana has shown all year that they are still the best program in the Big Ten, yet that debate is for another time. Iowa possesses possibly the most consistent and versatile team in the Big Ten. Led by senior forward Jarrod Uthoff (second in PPG behind only MSU's Valentine), the Hawkeyes are a team that you do not want on your schedule for March.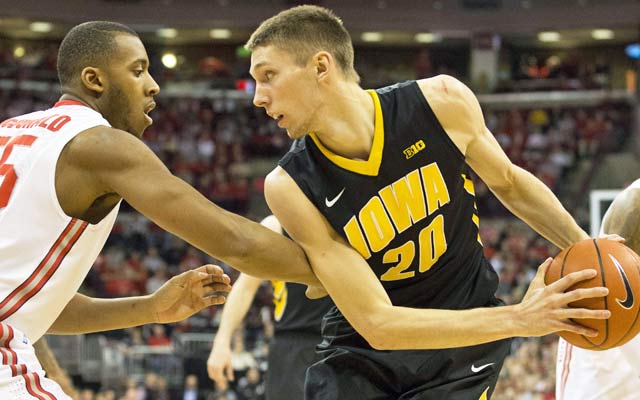 BUBBLE: Michigan, Wisconsin, Purdue
Work needs to be done for these three teams to see themselves in the bracket. The first weeks of March are extremely important in the season for these programs as mid year slips have them on the outside looking in.
MICHIGAN (20-9,10-6): has wins against Purdue and Maryland at home. Something important that Michigan has is ZERO bad losses. Their schedule has been easy to an extent but they have beaten the teams they should beat and if they take care of business down the stretch, they will be in. For Michigan I think they need to win their final two games (@Wisconsin, vs #4 Iowa) and win at least one conference tournament game.
WISCONSIN (10-5, 18-10): It's already been a dramatic year for the boys from Madison as they have lost their long time coach, Bo Ryan, along with some very bad games. The Badgers, who are last year's National Finalists, started the year with a humiliating home loss to Western Illinois, but have since rebounded and put together a solid year. Led by Nigel Hayes, the badgers have an extremely inconsistent lineup that can shoot themselves in and out of a game. With 10 losses to date, and 3 games remaining on their plate (vs Michigan, @ Minnesota, and @ #20 Purdue), I think they need all three and deep run in conference play to have shot. It is disappointing considering the bounce back they have had but it may be too little too late.
PURDUE (21-7,9-6): In what promised to be a great season due to their non-conference schedule, the Boilermakers have had an average conference season. At 9-6 they are still the closest to a lock out of my three bubble teams, despite so many losses to conference teams. I expect the Boilermakers to be selected on March 13th, regardless of how they do in the conference tournament. Look for them to get a 6-8 seed in the MidWest.